Project managers wish to have well-designed Microsoft project dashboards and reports. Optimized dashboards and reports provide an incredible way of visualizing a project's insights, data points, and status. It gathers information from all significant project touchpoints and combines it into a centralized platform so the entire team can immediately see all the information they want.
However, there are undoubtedly unique and fundamental issues associated with building Microsoft dashboards and reports.
Challenges of Building Reports and Dashboards
The following are the unique challenges that project managers face when developing Microsoft project reports and dashboards:
Simplifying dashboards and report development
Adapting and personalizing technologies to their advantage
Getting more Project for the Web reporting opportunities
Using big data and visualization to create business value
Increasing project data visibility
Connect Project for the Web to Power BI
Accessing advanced data analytics
Saving time on report design
FluentPro Power BI Reports Pack for Project for the Web
While you may experience these difficulties, our FluentPro specialists understand your needs. As a result, we've created the FluentPro Power BI Reports Pack for Project for the Web.
This is an excellent tool for creating stunning MS Project dashboards and reports. This pack comprises over 25 pre-configured Power BI reports and immediate access to actionable information about your portfolios and projects.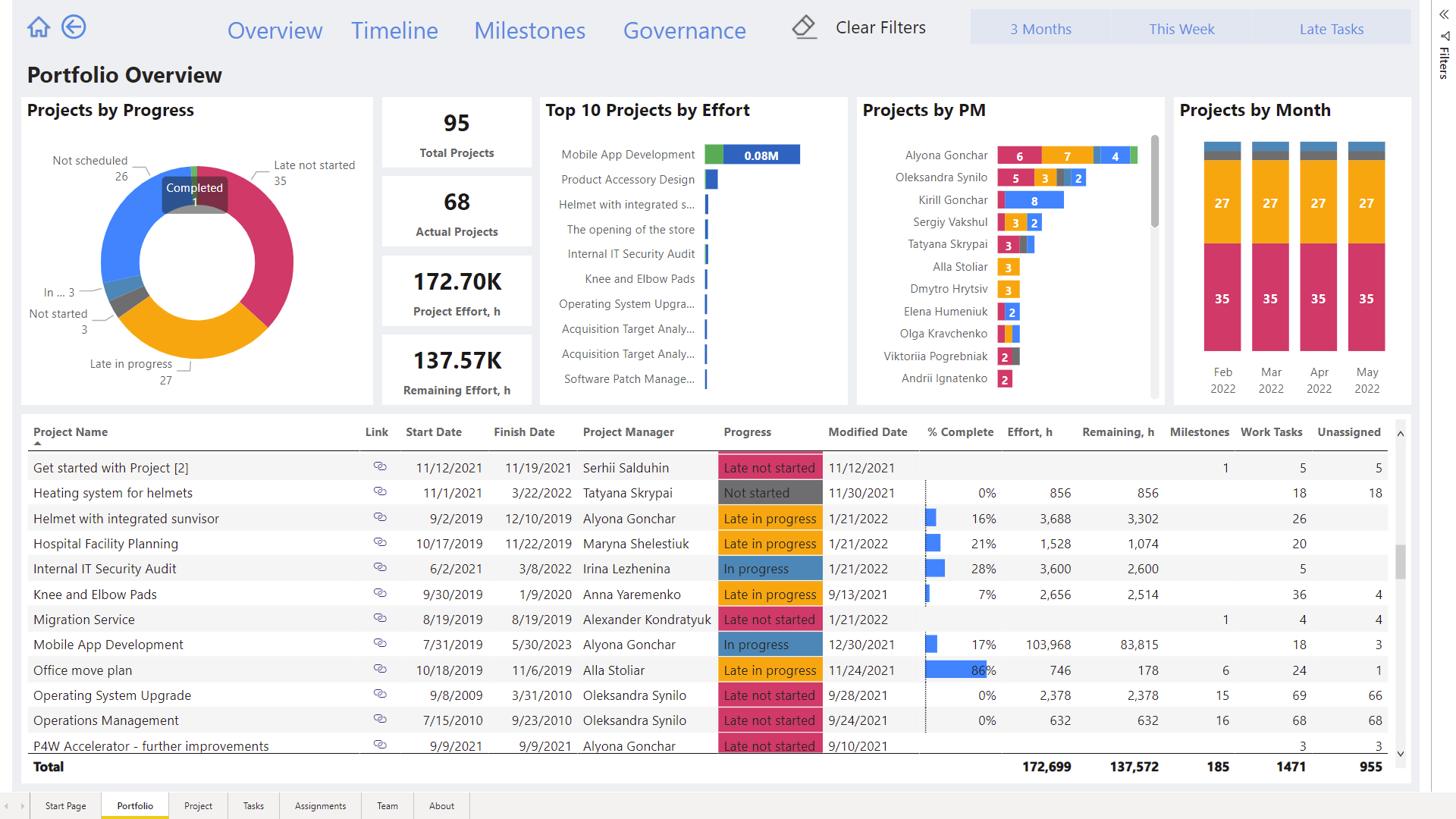 The Power BI Reports Pack for Microsoft Project for Web has the following key features:
Provides fast access to comprehensive project and portfolio dashboards, delivering real-time project insights, analytics, and intelligence.
A one-of-a-kind solution is created by PPM specialists and includes 25+ ready-to-use reports that give analytics of projects, portfolios, resources, and issues based on fresh insights.
Power BI Project for the Web Reports Pack gives value for your money by allowing project managers to make informed decisions.
Contact our Power BI Consulting Services
Expand your data visualization opportunities with Power BI consulting services. Our FluentPro Power BI Consultation Team turns corporate data into improved business outcomes and wiser decision-making thanks to over ten years of expertise in customizing and adopting Microsoft business intelligence solutions. Our professionals can help you to:
Analyze your business
Define your BI strategy
Bring business intelligence under a single data warehouse
Implement Power BI
Integrate data from numerous sources
Transform your data into adaptable Power BI dashboards
Build customized reports
Our experts can happily assist your company with complex data modeling, sophisticated DAX calculations, modifications, and visualizations.
What Benefits Will Your Business Get?
Power BI Reports Pack for Microsoft Project for Web provides you with complete visibility of project data, precise analytics, and informative reports.
Using Project for the Web Power BI will benefit your business in the following ways:
Tailored and sophisticated customization allows your business to derive maximum value
A BI strategy and plan to help your organization meet its business goals
More than 25 pre-built Project for the Web Power BI template reports on project, portfolio, resources
All project data is centralized in a data warehouse, so you can easily access and use it
Outstanding information and insight from Power BI dashboards and reports for enhanced project visualization
More in-depth data analysis for better decision-making
Conclusion
As you have seen, FluentPro Power BI Reports Pack for Project for the Web is an excellent solution for achieving broader visualization and making informed decisions. Its handy features will help you gain value for your money. Our team of experts can assist you in creating detailed reports for the Microsoft Project for the Web.
Contact us today
to get help with building reports and dashboards
Contact us